Welcome to American Legion Post 735
Hiawatha, Iowa
The hometown of
Medal of Honor recipient Sal Giunta
---
Latest News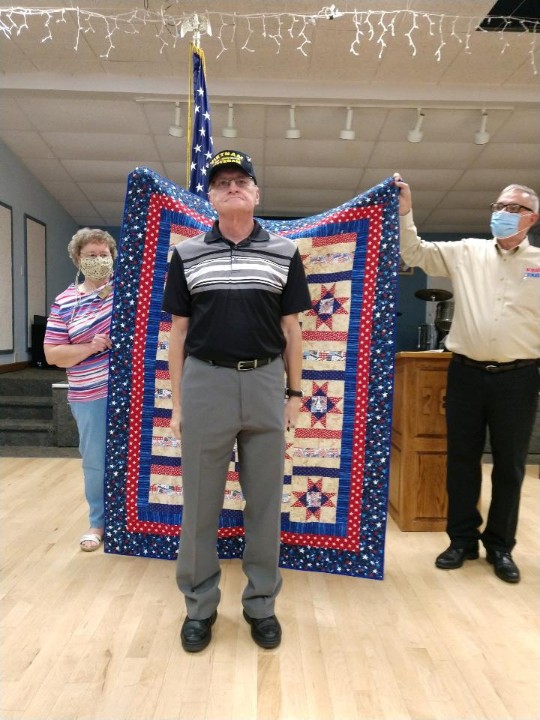 Congratulations to Larry Throndson for being honored by Quilts Of Valor at the end of August in Cedar Rapids. Larry was presented a handmade quilt and publicly honored for his service to our country. Standing tall, looking sharp and receiving well-deserved recognition!

Membership season!
Renew your membership today.
Looking to join The American Legion? Looking to transfer? Now is the the perfect time to do both.
Easiest way is online at Legion.org.
Avenue of Flags 2021:
---
Upcoming Events
Monthly Post Meeting: 7:00 pm, November 10, 2020

Avenue Of Flags: November 11, 2020 (flags go out at 7 am, flags picked up at 3:30 pm)
Post 735 Christmas Party : 5:30 pm, December 5, 2020
Monthly Post Meeting: 7:00 pm, December 8, 2020
---
American Legion Post 735 is part of the nation's largest veterans service organization, committed to the mentoring and sponsoring of youth program in our communities, advocating patriotism and honor, promoting a strong national security, and continued devotion to our fellow service member and veterans.
If you would like to learn more about the Amercian Legion, the Auxiliary, or the the Sons of the American Legion, please look around this site or contact us at 319-393-2377.
A common question is, "Am I eligible to join?" Recent changes to the American Legion's membership requirements most likely means the answer is yes:
All active duty members of the U.S. Armed Forces are eligible to join The American Legion.
Anyone who had federal active duty time in the United States Armed Forces since December 7, 1941, and were honorably discharged are eligible.
U.S. Merchant Marines who served from December 7, 1941 to December 31, 1946 are also eligible.
---